HyperX Holds Weeklong Customer Appreciation Event: HyperX Loot Drop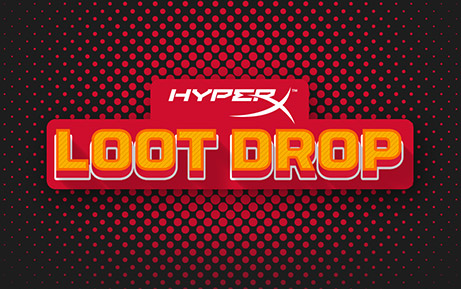 HyperX Offer Global Fan Appreciation Promotions with HyperX Loot Drop
HyperX, the gaming division of Kingston Technology Company, Inc., have announced a global fan appreciation sales event called HyperX Loot Drop. HyperX Loot Drop is a globally coordinated event for deals around the world on award-winning HyperX products. The event will take place in the UK between March 16 – 21 exclusively on the HyperX shop.
HyperX Loot Drop is a global celebration to show support for the gaming community and HyperX fans by offering HyperX award-winning products at exceptional discounts. The event provides reduced pricing on gaming headsets, keyboards, mice, and more.
For more information please visit HyperX Loot Drop.
| | | | | | |
| --- | --- | --- | --- | --- | --- |
| Start Date | End Date | Product part | Product | MSRP | Promo Price |
| 3/16/2021 | 3/21/2021 | HX-HSCSC-BK | Stinger Core PS | £34.99 | £24.49 |
| 3/16/2021 | 3/21/2021 | HX-HSCSCX-BK | CloudX Stinger Core | £34.99 | £24.49 |
| 3/16/2021 | 3/21/2021 | HHSC2-CG-SL/G | CloudX | £59.99 | £41.99 |
| 3/16/2021 | 3/21/2021 | HX-HSCLS-BL/EM | Cloud PS4 | £59.99 | £41.99 |
| 3/16/2021 | 3/21/2021 | HEBBXX-MC-RD/G | Cloud Buds | £54.99 | £38.49 |
| 3/16/2021 | 3/21/2021 | HX-HSCAS-BL/WW | Alpha S Blue | £119.99 | £83.99 |
| 3/16/2021 | 3/21/2021 | HX-HSCFX-BK/WW | CloudX Flight | £129.99 | £90.99 |
| 3/16/2021 | 3/21/2021 | HX-HSCF-BK/EM | Cloud Flight | £119.99 | £83.99 |
| 3/16/2021 | 3/21/2021 | HX-KB7AQX-US | Alloy Origins Core - Aqua, US layout | £99.99 | £69.99 |
| 3/16/2021 | 3/21/2021 | HX-KB7RDX-US | Alloy Origins Core - Red, US layout | £99.99 | £69.99 |
| 3/16/2021 | 3/21/2021 | HKCPXA-BK-UK/G | Pudding Keycaps UK | £24.99 | £17.49 |
| 3/16/2021 | 3/21/2021 | HKCPXP-BK-US/G | Pudding Keycaps US black | £24.99 | £17.49 |
| 3/16/2021 | 3/21/2021 | HKCPXP-WT-US/G | Pudding Keycaps US white | £24.99 | £17.49 |
| 3/16/2021 | 3/21/2021 | HX-MPFU-M | Fury Ultra | £44.99 | £31.49 |
HyperX can be found on:
YouTube: http://www.youtube.com/kingstonhyperx
Facebook: http://www.facebook.com/hyperxcommunity
Twitter: http://twitter.com/hyperx
LinkedIn: http://www.linkedin.com/company/164609?trk=tyah
Google+: https://plus.google.com/u/0/+kingston/posts
Media Relations:
Shane Herrington
HyperX PR Team
Kingston Technology Europe Co LLP
+44 (0) 1932 738888
[email protected]

LEWIS - Global Communications
+44 (0) 207802 2626
[email protected]