Two-year sponsorship agreement signed with HyperX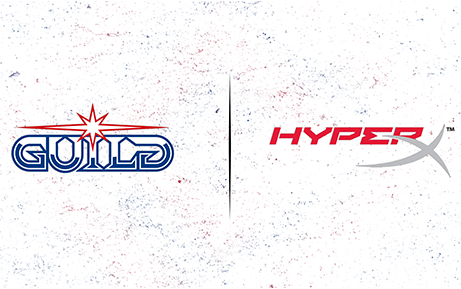 Guild Esports, a UK-based owner and developer of esports teams (LSE: GILD), is pleased to announce the signing of the Company's second major sponsorship deal since its London stock market debut on 2 October 2020.
The new deal is with HyperX, a leading gaming peripherals brand of Kingston Technology Company Inc, the world's largest independent manufacturer of memory products based in Fountain Valley, California. The total value of the contract, which is subject to commercial confidentiality, is in line with the Company's expectations at the time of its IPO last October.
Guild will receive 75% of the consideration in equal amounts over two years in cash. The balance of the 25% contract value will be satisfied in kind with gaming hardware for Guild's pro-players, content creators and academy students and to fit out the Company's head offices in London.
HyperX will become the exclusive peripherals sponsor and will be able to promote its brand and products through placement in Guild's streaming of game-play provided by Guild pros and content-creators, as well content, tournaments and other marketing initiatives.
Carleton Curtis, Executive Chairman, said: "We are delighted to partner with HyperX. Their brand is indispensable to gamers and we look forward to helping them address the rapidly growing audience for esports worldwide. Thanks to the growing interest in esports from leading advertisers and major brands, our pipeline of potential new business continues to expand, and we look forward to announcing more deals in due course."
Paul Leaman, vice president, at HyperX EMEA, said: " HyperX has supported esports for over a decade, from grassroots to pro players and major tournaments, ensuring our quality gaming gear from headsets, keyboard and mice enable gamers to reach their full potential. We are very excited to welcome Guild to the HyperX Family and look forward to supporting their teams on the way to victory."
HyperX can be found on:
YouTube: http://www.youtube.com/kingstonhyperx
Facebook: http://www.facebook.com/hyperxcommunity
Twitter: http://twitter.com/hyperx
LinkedIn: http://www.linkedin.com/company/164609?trk=tyah
Google+: https://plus.google.com/u/0/+kingston/posts
Media Relations:
Shane Herrington
HyperX PR Team
Kingston Technology Europe Co LLP
+44 (0) 1932 738888
[email protected]

LEWIS - Global Communications
+44 (0) 207802 2626
[email protected]